ECN's ten-year partnership with Esset PM expands to include premium OTIS in-lift solution at Tour Franklin in the La Défense business district.
Paris, France (May 23, 2022) –Executive Channel Network (ECN), a world-leading Digital Out of Home (DOOH) office media publisher, today announced an agreement to install in-lift digital screens with Esset, a leading French property management company. ECN's DOOH office screen network connects asset owners and brands with office audiences in real time in France, Germany and the United Kingdom.
Esset's partnership with ECN spans 35 office locations across Paris. The agreement with ECN includes the provision and management of digital content for eighteen (18) digital screens at Tour Franklin, which is in the La Défense business district. Tour Franklin is an office tower comprising 33 floors, with a strong focus on building amenities. ECN will work with leading lift operator OTIS to install the in-lift screens, which will be in addition to the existing eleven (11) ECN digital screens throughout the tower.
A recent survey by ECN showed 85% of French office workers were back in the office on a weekly basis.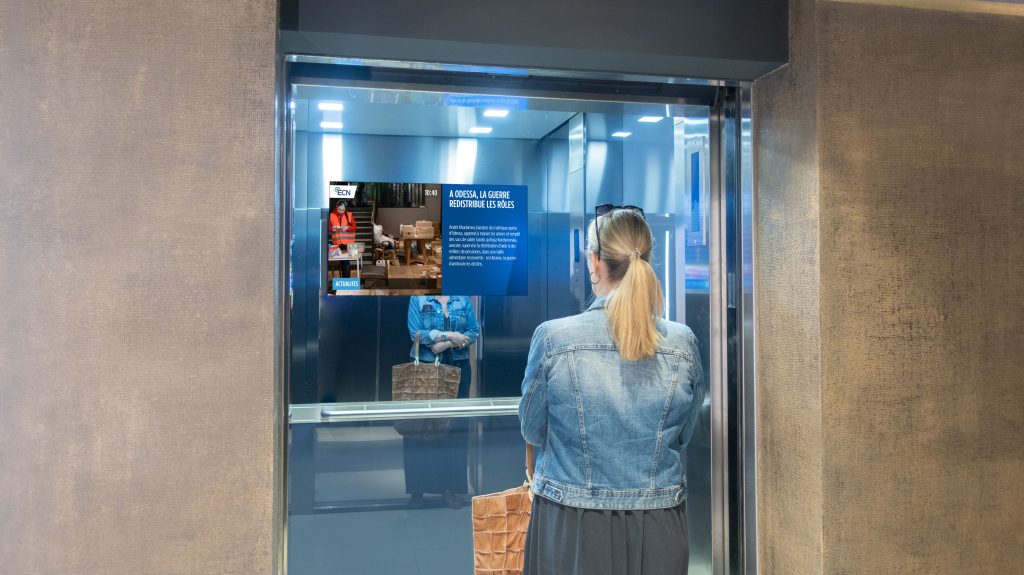 Charles Parry-Okeden, Global CEO, ECN commented: "Once again, ECN is driving the innovation agenda for digital office media across Europe, and we are delighted to partner with Esset and OTIS to enhance the tenant experience at Tour Franklin".
By 2023, all new OTIS elevator cabins will be connected to ECN at Tour Franklin.
About Executive Channel Network (ECN)
Executive Channel Network (ECN) is a world leading digital-out-home (DOOH) office media publisher connecting asset & brand partners with affluent audiences in premium office environments. ECN delivers 17 million weekly impressions across 850 digital screens in 530 locations, and is present in 12 cities including London, Paris, and the main German cities.
ECN is a wholly owned subsidiary of Executive Channel Holdings (ECH).
For more information, please visit www.executivechannelnetwork.com